"Be The BEST You Can Be!" CONCERT
~ The Need ~
"The ability to successfully inspire young people to stand up to negative peer pressure with confidence and veer away from substance abuse and bullying is a goal we strive to accomplish. The use and abuse of heroin in the United States and in countries around the world continues to be a serious threat. Throughout our Tours, we have assembled the statistics of what "gets through" in content…after every Show…surveyed by the Principals and the Superintendents….and the attitudes that were affected toward making actual behavioral change. We have always finished above the 90th percentile on average. We have stories and emails in the hundreds that attest to the fact that they "got it." We have saved individuals from allegedly committing suicide. If we save just 10 or 20 through prevention, it will save law enforcement 10x as much in time and hardship down the line. In these days where it only takes ONE imbalanced individual to cause a major catastrophe, we have done a fine job of trying to "head off" coming trouble, by helping young people with their mental, emotional, and spiritual perspectives and balance…by approaching them through Many different ways….at once."
RTD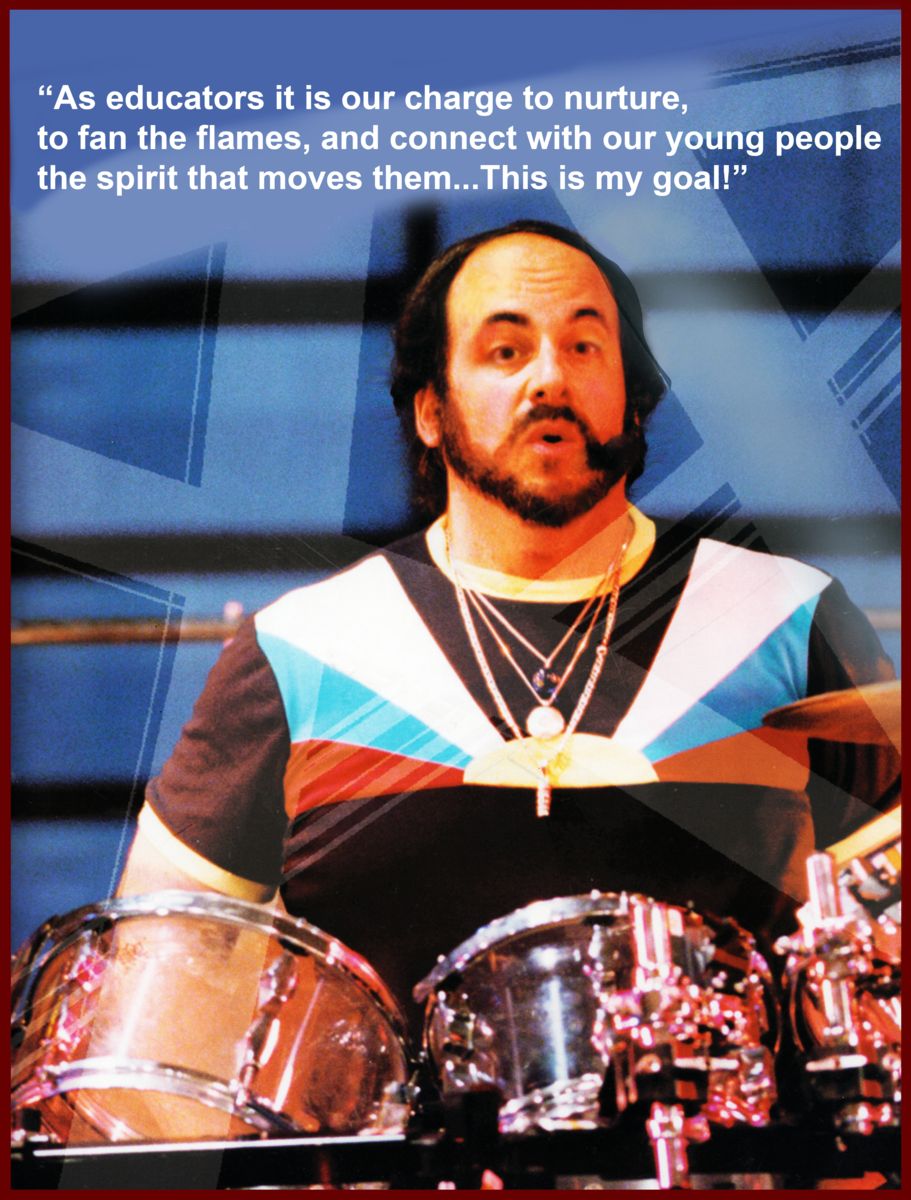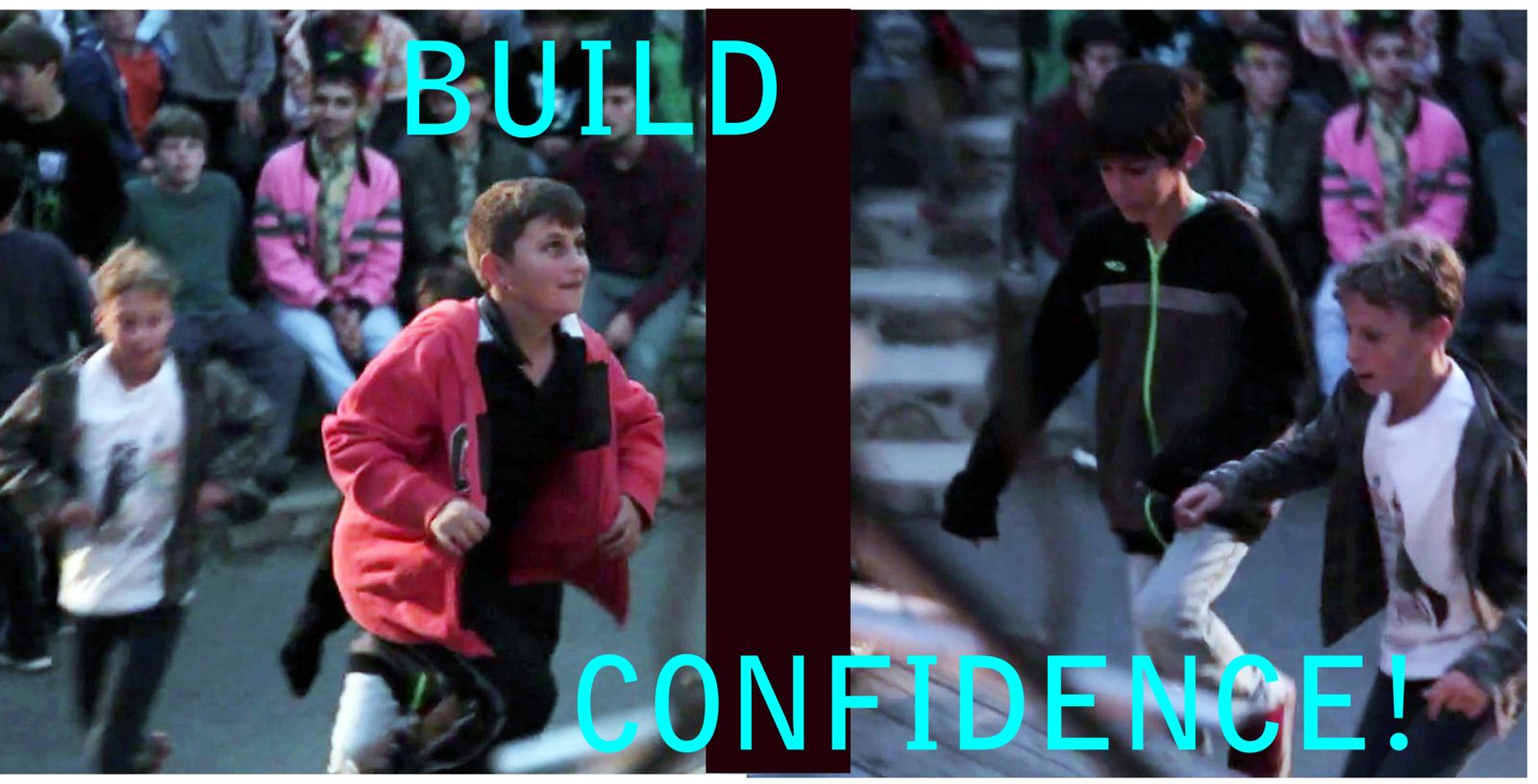 Drug abuse and the demoralization affects of Bullying take away the power to achieve success! Rob delivers his message in a way that captivates the audience - He speaks about self worth and finding life paths that bring happiness and success. The dream ~ is to mature and fulfill the vocation you LOVE ~ and not waste time in a job that minimizes your capabilities and unique talent.
---
It is a nationwide fact that high school students entering college are binge drinking to a higher degree (48 HOURS Television Special) - using ecstasy, heroin and a wide range of illegal drugs - Worst scenarios - this pattern begins in MIDDLE SCHOOL!
The ROB THE DRUMMER Educational Program recognizes the NEED to give kids opportunities to try new skills, stretch their imaginations and tap into creativity!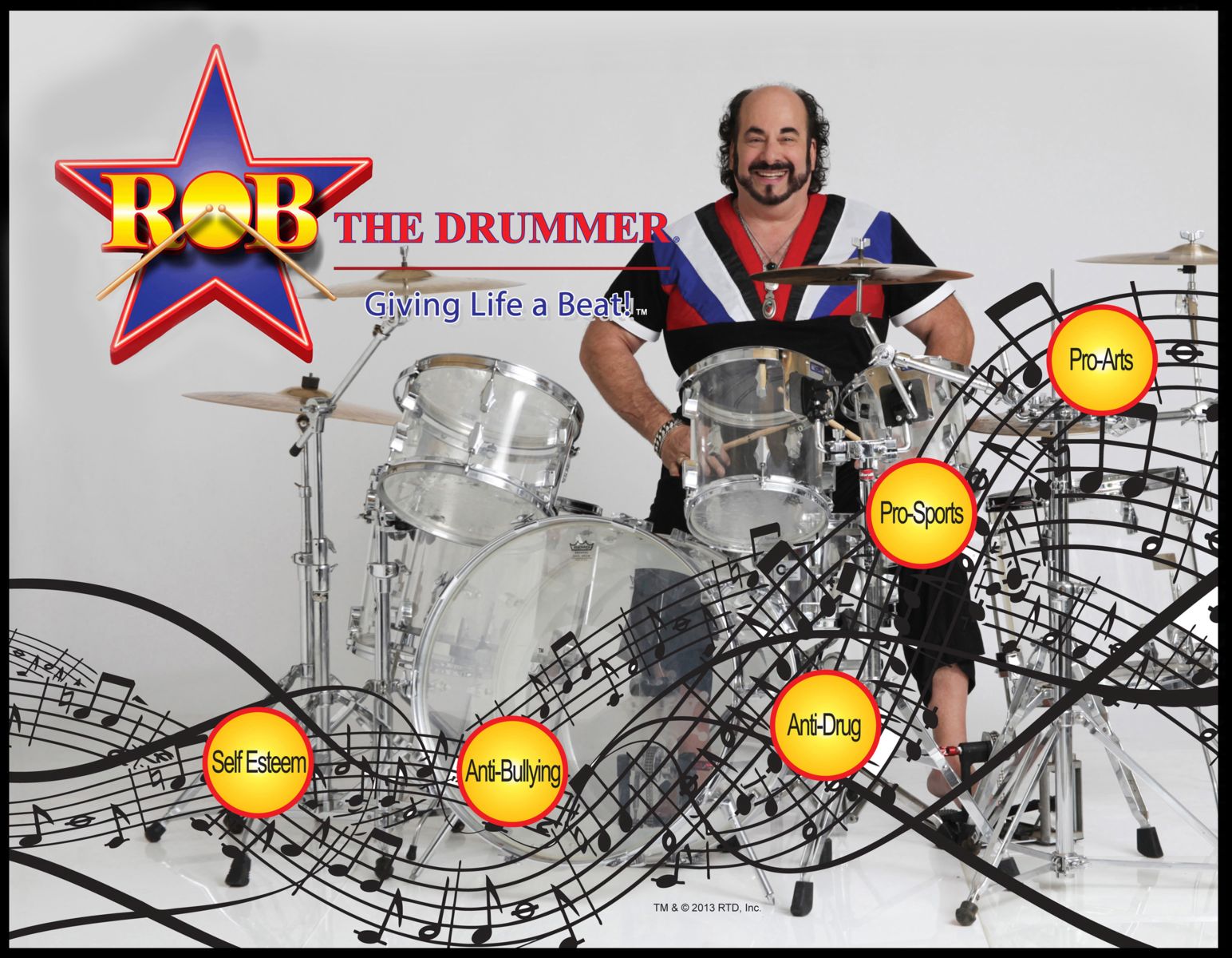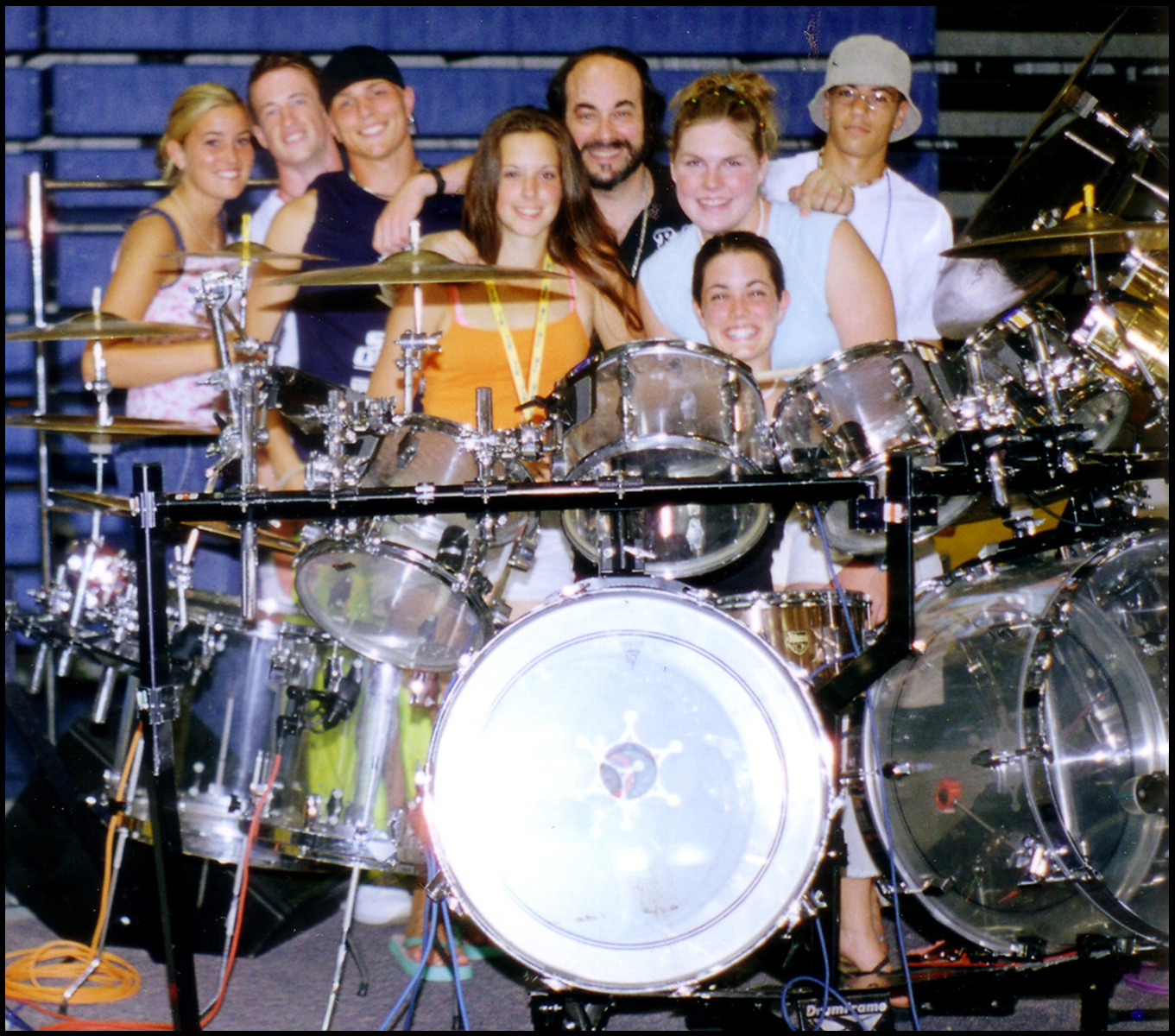 CONNECT ~ MAKE TIME
MENTOR ~ BE A ROLE MODEL!
BUILD SELF-ESTEEM!
The structure of this musical, educational performance is designed to CONNECT audiences through creating strong rapport and trust. At the core of Rob's presentation, he delivers inspiring concepts of self-reliance and goal oriented thinking. Kids and adults experience opportunity ~ on stage ~ and actually play Rob's drums, participate, share performances from students at their own schools, EXPERIENCE the musical moment and FEEL his message!
RTD ANIMATION DELIVERS THE MESSAGE!
The concert venue has engaging animation segments that deal with Practice, Anti-Bullying and Accepting Diversity. EXPLORIA PRODUCTIONS of Hartford, CT, has created a new and exciting dimension to the ROB THE DRUMMER national presentations in the form of 3-D animated character segments, projected on stage to interact with Rob with live action and commentary during the show.
POSITIVE EMOTIONS MAKE CONNECTIONS!
Rob stresses equality of the sexes in the Arts and Sports, stresses the importance of practice in anything you do, and then attacks the drug issue with plain talk in a "non-preaching" manner. His unique deliverance allows people to FEEL, not just passively listen. Audiences experience a wide range of POSITIVE EMOTIONS for immediate, as well as long term impact! Rob Gottfried is an accomplished International musician who teaches percussion privately and performs professionally. Kids and adults will actually play the drums, participate on stage, EXPERIENCE the musical moment and FEEL his message!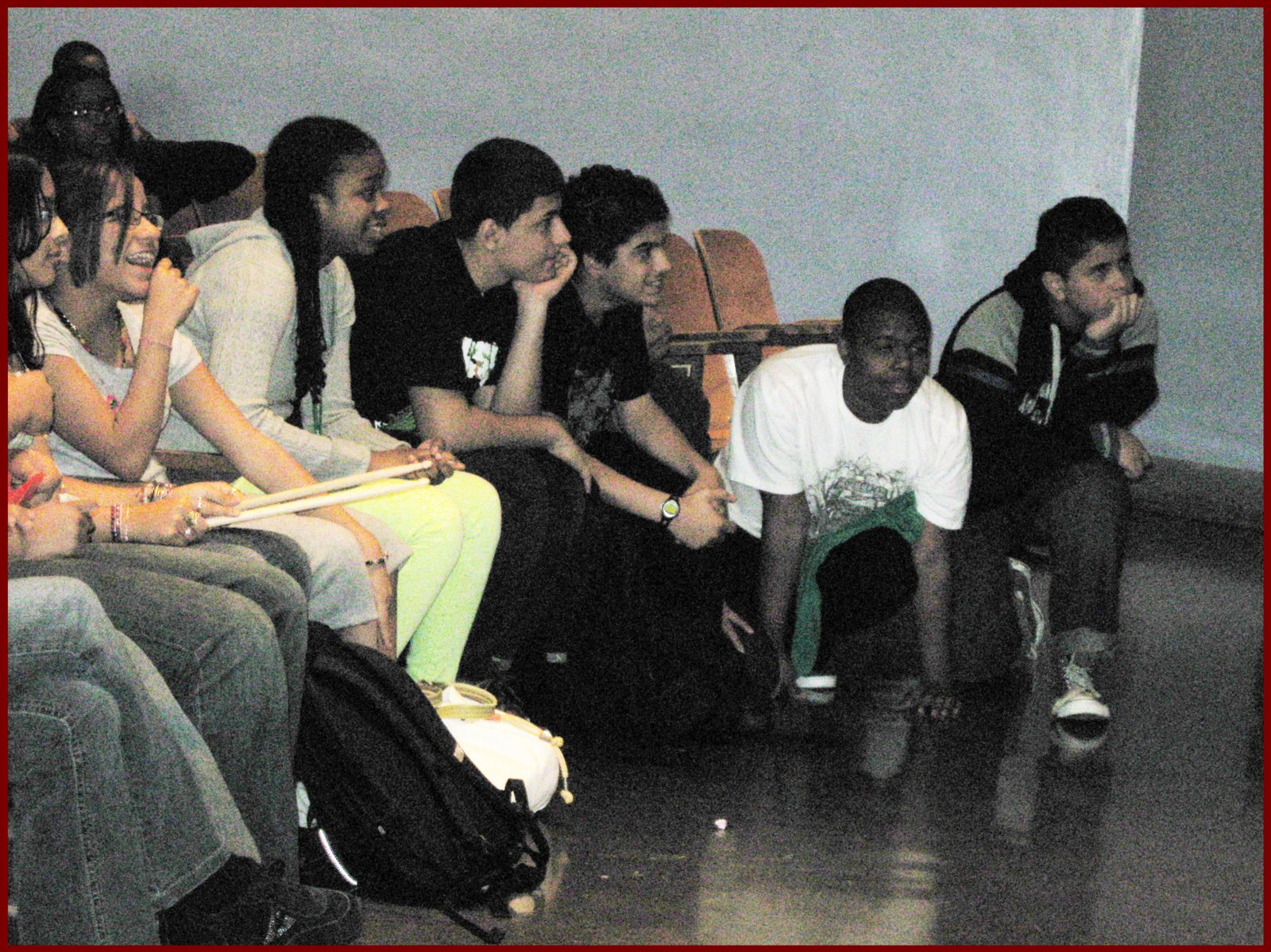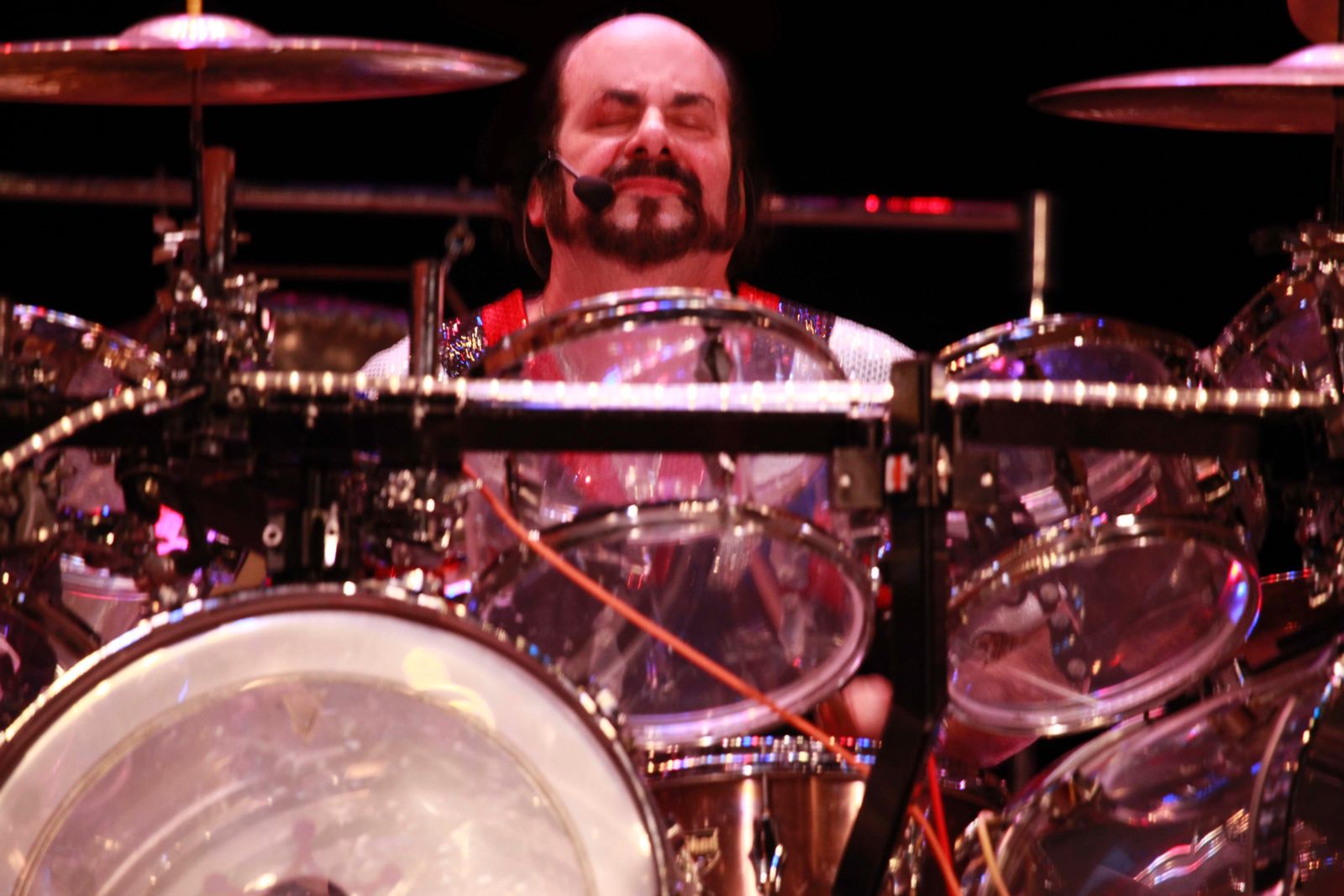 "NATURAL ECSTASY!"
Rob Gottfried's ROB THE DRUMMER performances offer the "glue" that fortifies kids, funneling them back to positive life choices . . . he offers the "natural fix" that keeps them strong as they may stray from parental and administrative failure to communicate! "Research reviews indicate that drumming experiences enhance theta-wave production and brain-wave synchronization. It enhances awareness of preconscious dynamics, release of emotional trauma, and the reintegrating of self. Drumming alleviates self-centeredness, isolation, and alienation, creating a sense of a connectedness with self and others. Drumming provides a secular approach to accessing a higher power and applying spiritual perspectives." (Michael Winkleman, PhD, MPH - Department of Anthropology, Arizona State University)
Through his love of music . . . and his DRUMS . . . Rob Gottfried's life focus is to inspire today's Youth and achieve this goal.
ROB CAN HELP!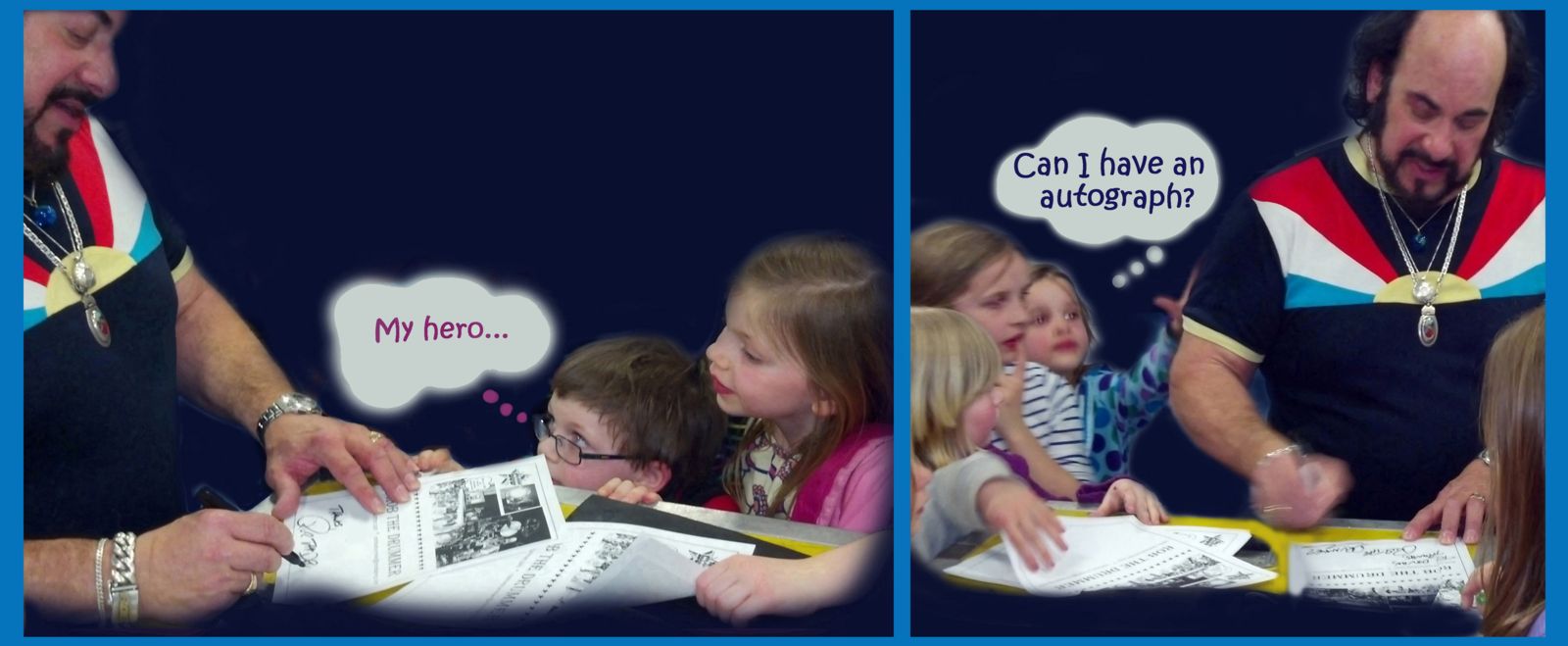 ROB THE DRUMMER CONCERT PERFORMANCE
and ARTIST-IN-RESIDENCES WORKSHOPS
Rob performs full, entire-population shows in schools across the nation. Follow-up, small group secondary sessions the same day of the shows can be arranged, promoting the following themes:
* Career Paths and Choices;
* Good physical health and an alert mind;
* The quality of life when one is constantly looking over one's shoulder and experiencing long term stress;
* The essence of Freedom to not only live in this country, but to make a choice as to where you are going and what you are doing.
* Equality of the Sexes;
* Goal Orientation;
* What it's like to be "in the music" as a participant, rather than just listening to it as an outsider;
* Self Reliance;
* Worthiness and Self-Esteem Issues;
* The "need for practice" in anything you do and most importantly . . .
* The ARTS & SPORTS as a "natural" way to change the way you feel, rather than an "artificial" one . . .!"
Rob will continue to reinforce the themes and to "break the ice" with non-verbal/verbal/non-verbal exchanges using hand drums and other percussion instruments provided by companies that endorse and sponsor ROB THE DRUMMER.
Question & Answer Exchange
Career Opportunities ~ YOUR FUTURE
"Question and Answer" exchanges will be encouraged in a setting that is the most congenial for people to share. We will investigate deeper into the possibilities of how one may change their life and have great hope for their future - no matter what their current economic status may be. This will follow the philosophy of the "the cream rises to the top" and nothing will stop someone who is sincere and unrelenting in their desire to rise from their environment and become the person they want to become.
"Be in the music . . . not separate . . . at one . . . non-verbally. It is that natural ecstasy that may be the one single most underlying motivator for percussionists of any age or musical inclination." Rob Gottfried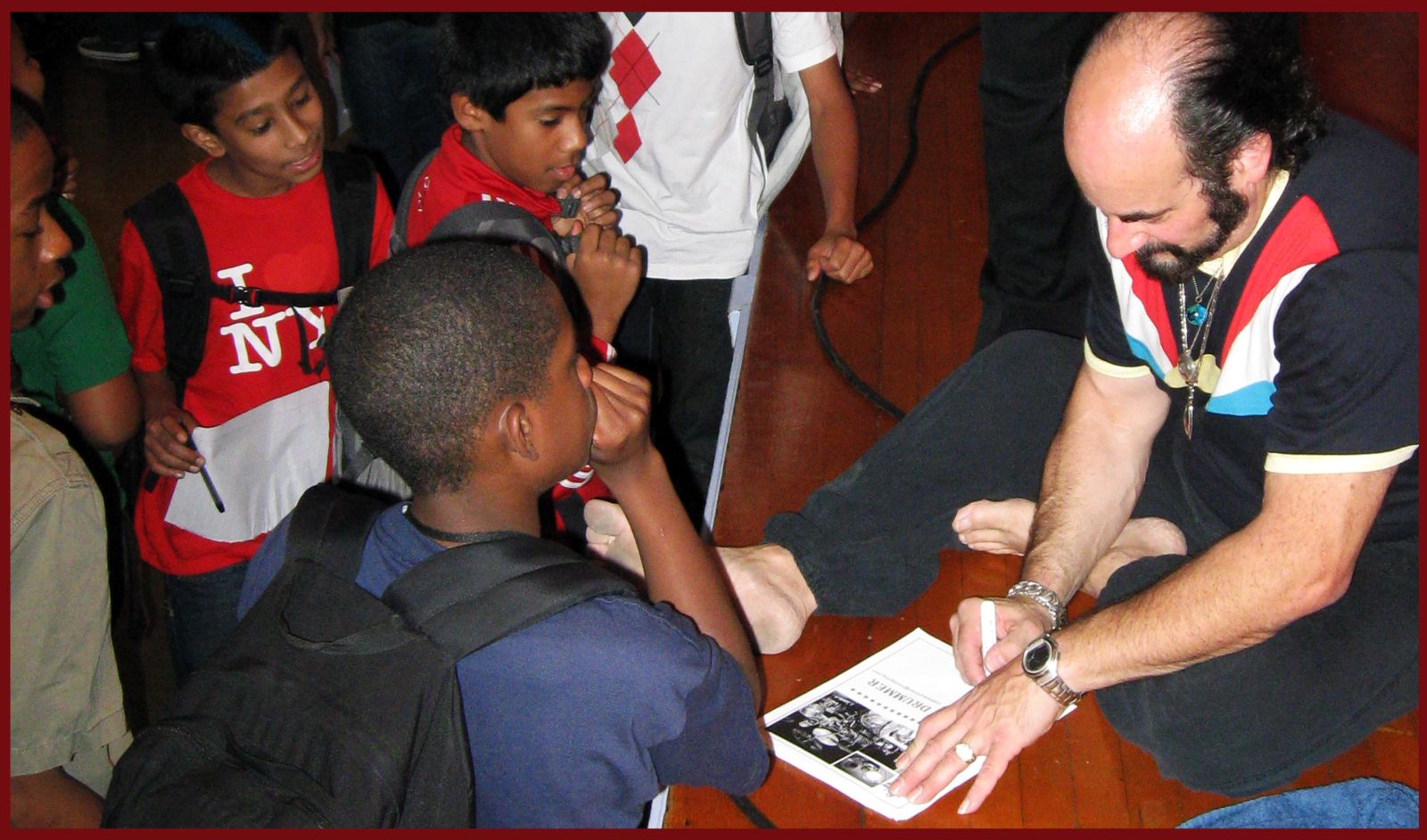 ---