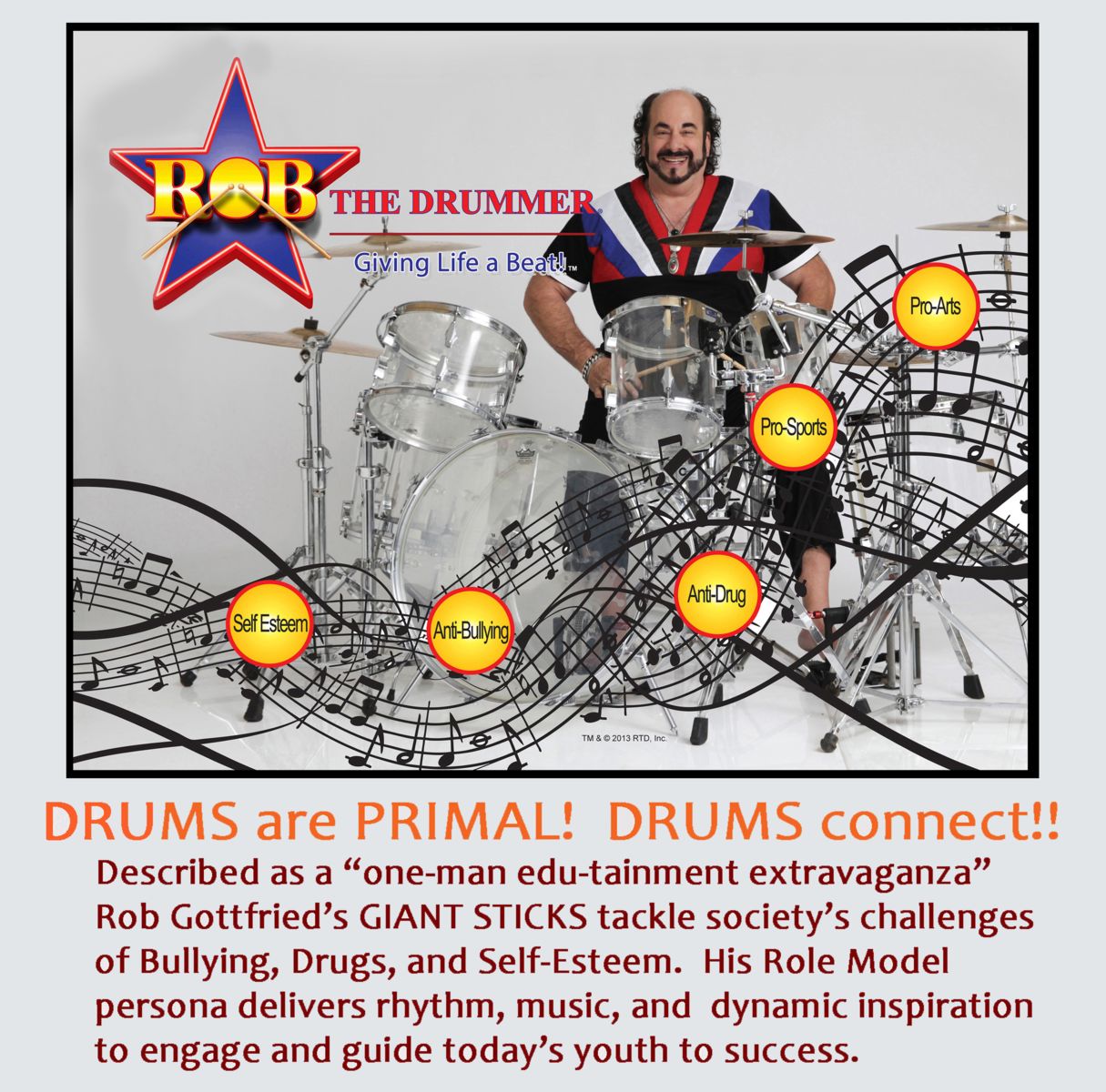 THE NATIONAL VISION ~ FOOTPRINTS of IMPACT!
Based in Connecticut, Robert Gottfried is a motivational speaker who targets social issues of anti-bullying, anti-substance abuse, accepting diversity, and developing high self esteem. His "Be the BEST You Can Be" concert -assembly address intervention and prevention of suicide, positive thinking, peer pressure, personal power, inner balance and leadership qualities for successful life skills and positive life choices. Rob's concerts have been performed for elementary, middle, high school and college level students across the United States with rave reviews. Drumming bare foot, Rob is a powerful percussionist described as a "One-man Edu-tainment Wizard and Role-Model Beacon for today's Youth," and is better know to thousands of kids across the USA as ROB THE DRUMMER! Rob's role model persona and dedication to young people earned him a Special Proclamation of Tribute Award, celebrating years of community service and dedication to Michigan youth and their families. The concerts are memorable...you will never forget him!
"Rob has positively impacted the lives of those he has reached through his artistry. We commend and thank him for his contributions to the people and communities of our state and country." Michigan Governor Rick Snyder
The forward-thinking vision and support of Dr. Roger and Coco Newton through The Esperance Family Foundation has enabled ROB to use his primal instrument, the Power of Drums, "to reach out and make the call" in Michigan.... and reverberate and resonate in the Hearts of literally hundreds of thousands of young people. The State of Michigan has become Rob's most prominent stomping ground and it is his dream to spread his message to thousands of kids in many other states. Rob's drumming footprints have made an impressionable and inspirational mark upon the hearts and minds of thousands ~ children and adults alike! Student testimonials, Letters of Recognition from Principals, Superintendents, Law Enforcement Officers, State Representatives, and the Office of the Governor are creating a scenario that commands our attention!
ROB THE DRUMMER'S: Family history paved the pathway for Rob's life's work and, ultimately, his creation of the "ROB THE DRUMMER" children's character.
TURNING POINT:At age 25, Rob had his first direct opportunity to share his philosophy with kids when an educator colleague asked him to talk to his junior high school class about drums. As related in Modern Drummer Magazine, Rob says, "As soon as I started to play, I saw that I had the attention of even the wildest kid. I would later understand that it was because drums are primal and non-verbal. Drumming is a much deeper experience than anything you would approach on a verbal level. I then realized... 'Why not use this as a way of making a connection? Communication was big in our family and I wanted to continue that to feel connected."
ACCOLADES COAST TO COAST: In 2002, PBS Television Network, through it's affiliate CPTV in Hartford, CT acclaimed Rob's 25 years of dedication to the fields of Percussion and Anti-Substance Abuse with a LIFE DOCUMENTARY, featuring testimonials from world renowned trumpeter, Wynton Marsalis. Rob was the honored Guest Artist & Percussion Coordinator for FORTUNE Magazine's GLOBAL FORUM 2002 Power of Leadership Seminar in Washington, DC., entertaining the highest of dignitaries. The outgrowth of his dynamic Anti-Drug, Self-Esteem message for children prompted his third Presidential Invitation to the White House for the 2002 Easter Egg Roll. He has been the honored Keynote Speaker/Performer for the World Scholar-Athlete Games – University of Rhode Island, the Maine Health Promotion Wellness Conference Sugarloaf/USA, the TREND 2000 National Conference - National Council on Alcoholism and Anti-Drug Abuse, The KICK BUTTS 4-Day Concert Tour & Rally – Wyoming 2000, Guest Percussionist for the 2003 Junior Achievement National Hall of Fame Laureate Awards, and Keynote speaker at the 2004 Boys & Girls Club National Convention in Minneapolis, Minnesota. Rob was honored as the Master Instructor at The Salvation Army 2004 Project 21st Century Learning Campus. 2008, 2010, 2012 and 2014 highlight Rob's invitational performances by the Bank of America Arts Showcase at the Providence Performing Arts Center. Mayor Anthony Bosbous officially proclaimed March 4, 2011 Sault Ste. Marie, Michigan as ROB THE DRUMMER DAY! The ESPERANCE Family Foundation has sponsored Rob's "Be The Best You Can Be" MICHIGAN TOUR since 2002 in schools throughout the state. In 2014, Michigan Governor Rick Snyder presented Rob with the SPECIAL TRIBUTE PROCLAMATION AWARD for outstanding service to the youth of Michigan.
DRUMMING OUT DRUGS: Rob's career crystallized on Sesame Street with a resounding introduction from BIG BIRD ~ "Hey Kids! Here comes ROB THE DRUMMER!" As a guest artist for six rhythm segments, BIG BIRD applauded him, along with Gordon and Maria at his side, as he played his clear plexi-glass drums…the real life "Animal!" Rob has been connecting with audiences ever since. His renowned mentor and most famous drummer, BUDDY RICH, encouraged him to strive for success.

In 1986, he rallied as an Anti-Substance Abuse advocate for Nancy Reagan's "Pros for Kids – Just Say NO!" campaign In San Francisco. He continued to develop his ROB THE DRUMMER character to the status it has become today ~ an Internationally recognized performer, Role Model, and motivational speaker for audiences across the United States. After Sesame Street, Rob appeared on Kid's World, Romper Room, Evening PM Magazine, Nickelodeon's Total Panic. MTV and Entertainment Tonight. He is currently featured on "ARIEL & ZOEY & ELI, Too" on the NBC and PBS Networks.
ROB THE DRUMMER "Be the BEST You Can Be" Concerts have dramatically touched the hearts of more than 800,000 children, teenagers and adults. Rob's ultimate goal is to be an International Ambassador for Children. Rob has toured in Japan for teachers and students of the Yamaha Music Foundation, touring twice in the countries of Belgium and Russia, and performing throughout Europe in England, France, Italy, Germany, Lithuania, Latvia, and Switzerland. Through these days of uncertainty and unrest, ROB THE DRUMMER comes forth as a glimpse of hope for children, making them feel a perceptual change, naturally, and to use their own power to change that perception. Rob Gottfried is an Anti-Bullying, Anti-Substance Abuse, Pro-ARTS, Pro-SPORTS advocate for kids...a role model and mentor!

JAZZ/ROCK RECORDING ARTIST: Robert L.Gottfried is a Jazz-Rock/ Recording Artist, Motivational Educator, and Personal Percussion Instructor. He has filled the percussion chair with numerous great musical organizations… some notables being guitarist extraordinaire, Jeff Pevar, and with lead guitarist/vocalist/songwriter Desiree' Bassett, lead guitarist for the Michael Jackson IMMORTAL World Tour of Cirque du Soleil. Rob has completed three CD's with Desiree, played live and recorded several CDs with the renowned Grayson Hugh, and with Guitarist Tony Spada through his band "Holding Pattern" and his epic Prog-Rock piece ~ BREAKING THE SILENCE ~. Rob's latest offering is with an All-Star cast to create "SECRET SIGN" with the truly remarkable Jimmy Biggins on saxophone