ROB THE DRUMMER'S Michigan Model - Combating Drugs, Bullying and Low Self-Esteem!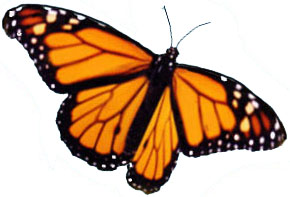 "The Butterfly Effect ~ One flutter of a wing ~ a vibration, an inspiration, or change ~ that "ah-ha" moment that initiates great impact to change a life and one's future!"
Since 2001, the philanthropic vision of Dr. Roger Newton and his wife, Coco Newton fostered an environment of enrichment and education for youth in the State of Michigan, through the Esperance Family Foundation. Their support enabled Rob Gottfried's ROB THE DRUMMER "Be the BEST You Can Be" Concert to Tour over 150 cities/towns ~ present 600 Shows in over 400 schools ~ and inspire over 800,000 students from Grades K-12. Combine that overall vision with the added grassroots support of the Michigan State Police CSTs (Community Service Troopers) fighting the social issues of drugs and bullying directly in the schools ... and you have a Super Hero Team joining forces to build healthy life skills, goal-orientation, and Self-esteem for the kids of Michigan ~ a "Tour de' Force" for Youth Health Promotion! In 2014, the Governor's Office of the State of Michigan declared a Special Proclamation of Testimony for the ROB THE DRUMMER ~ Be the BEST You Can Be ~ Presentation, celebrating years of dedication and community service to Michigan youth and their families. MARCH 4th is celebrated as "ROB THE DRUMMER DAY" in Sault Ste. Marie. Michigan Teen Stars ARIEL, ZOEY & ELI, TOO, invited Rob for Guest Appearances on 4 episodes on their NBC television Show watched by thousands of kids across the country! Ariel & Zoey and Eli, too VIDEO - https://www.youtube.com/watch?v=dYoqyNkTnHYS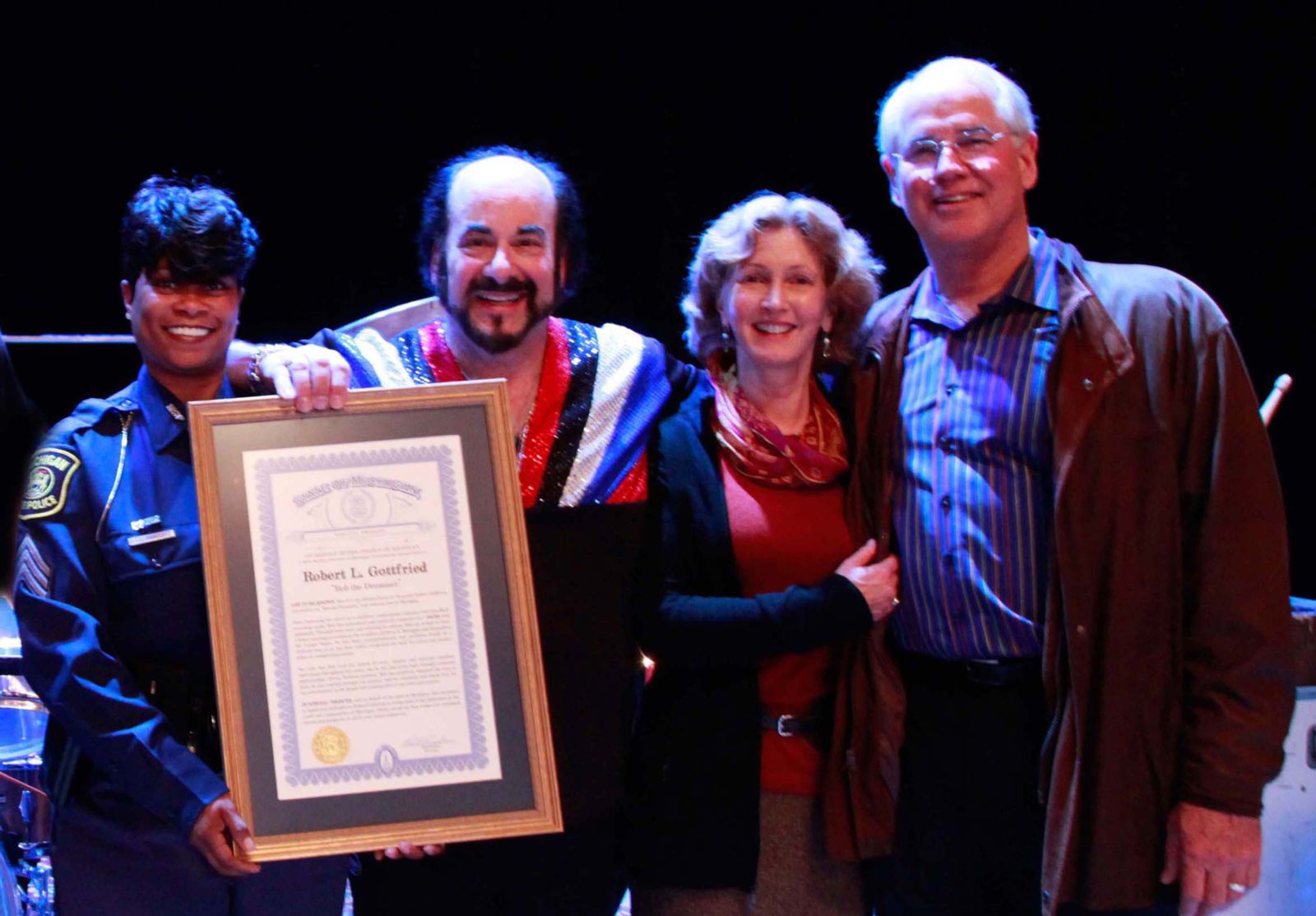 This is their story . . .
"As I watched the cameras zoom in on BIG BIRD, I knew something was about to happen ... "Hey kids...here comes ROB THE DRUMMER!" . . . I can't tell you how amazing it was to hear that introduction from BIG BIRD! There I was drumming on the Sesame Street stage! The greatest thing of all ~ is that performance was the start of my career and led me all over the United States, The White House, Europe and ~ most especially from 2001-2016 ~ to the State of Michigan! My footprints have stomped to the beat everywhere in the State of Michigan! My "Giant Sticks" delivered a powerful Anti-Drug, Anti-Bullying motivational message ~ it's Primal ~ it's DRUMS ~ it's the universal language of rhythm and music and it gets through! Kids Listen!
Thanks to the philanthropic generosity of the Esperance Family Foundation, my ROB THE DRUMMER Concerts have been experienced by kids as far North as Mackinac Island and Sault Ste. Marie to Flint, Detroit, Ann Arbor, Kalamazoo; to over 150 towns all over the state! The impact during and after the show ~ the things kids ask, and react to and say each day ~ is an adventure and the fulfillment of the Super Hero dream I once had! Roger Newton and I were high school friends ~ one from the Arts ~ the other from Science ~ a melding of personalities and common goals that has inspired kids across Michigan for over sixteen years.
But a unique collaboration developed over the last five years ~ we embraced the grassroots support of the Michigan State Police CSTs, and now, this program has come to serve as a "model" for future States to follow." RTD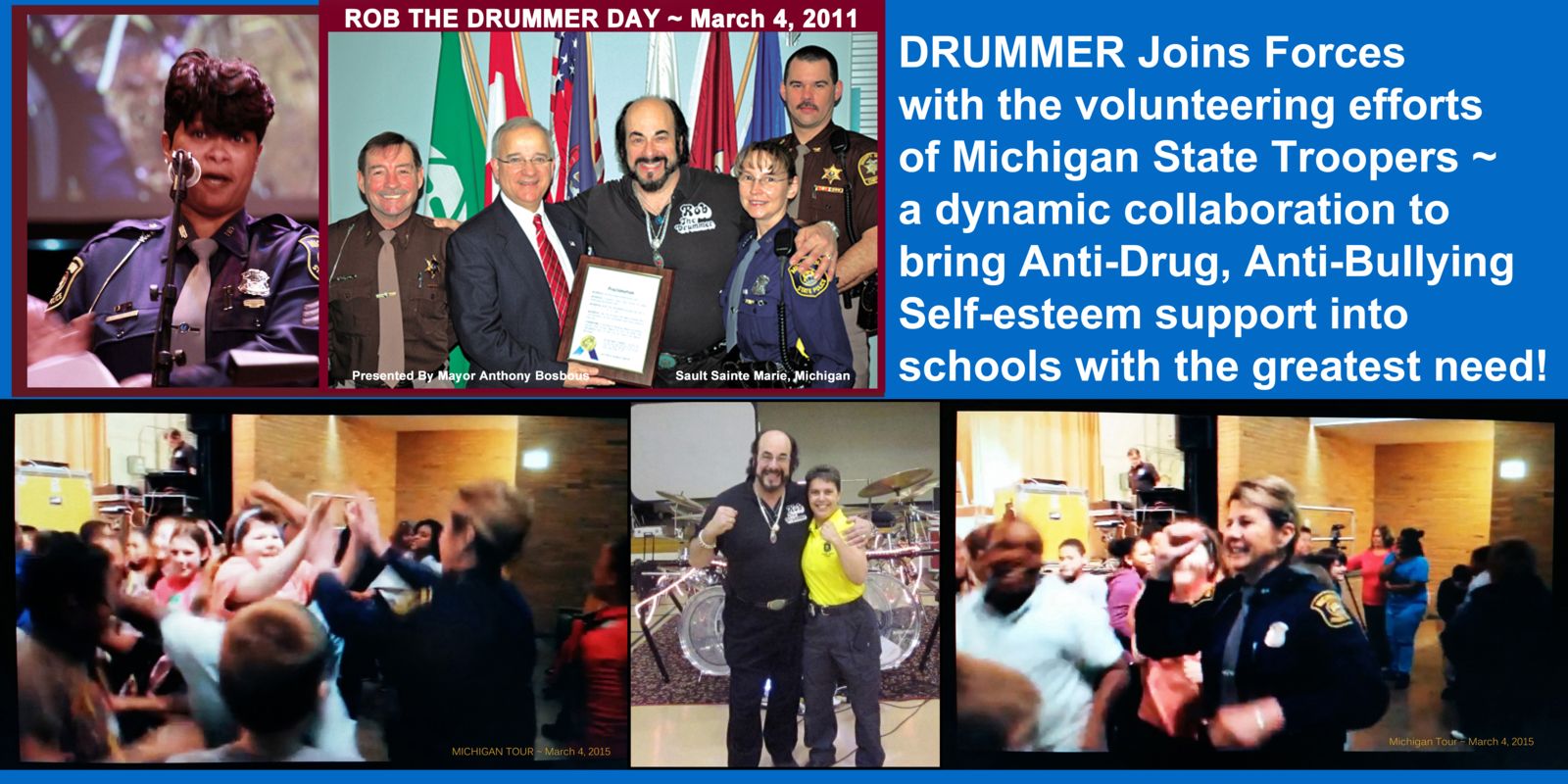 The "Model" evolved from the culmination of longevity, dedication, friendship,and community involvement, with grass root beginnings in the 1960's at the renowned William Hall High School in West Hartford, CT. Sports, Music and The Arts were the dynamic connectors that linked lifelong high school friends, Rob Gottfried and Roger Newton. The duo went on to pursue diversified careers with creative life ventures and ingenuity, both striving to accomplish important work for children, adults and the nation. Rob's national appearances on Sesame Street, The Nickelodeon Network, MTV, and The FOX Network had refined his exceptional skills of communication and delivery. BIG BIRD introduction on Sesame Street was the kickoff! Rob, Roger, and Roger's wife, Coco, set forth on a mission to make arrangements for Rob to captivate, inspire, and motivate groups of individuals across the state of Michigan that few other educators or entertainers would risk ~
. . . the rest is history!

A FAN... "I am 16 years of age and have wanted to become a musician for a while. You recently did a show for us at West Grand High School. I just wanted to thank you for your appearance at our school. I had no motivation to pursue any of my dreams or wishes until you came along. You have inspired me inspired me, and in the four days since you did your show, I have unlocked talents I never even dreamed of having. Thank you so much Rob. You have changed my life."
A FAN... "I'm more likely to listen to a drummer that I respect than my parents. You really don't know how much talking to you means to me. I've always wanted to talk to someone who's made it in that business and knows people in the field. "
The Need for ROLE MODELS
As Vice President of the Ann Arbor Division of PFIZER Global Research & development, and as a resident in that town, Dr. Roger Newton's connection to the community and Philanthropic prowess led him to address specific needs of children across the state. Role Models were needed to help address drug abuse, bullying and low self-esteem issues that were critical in the schools. Joining forces with Rob Gottfried's Motivational Concert would soon become a perfect fit; a dynamic venue having the resource and opportunity to get the message directly into the schools …straight to the kids!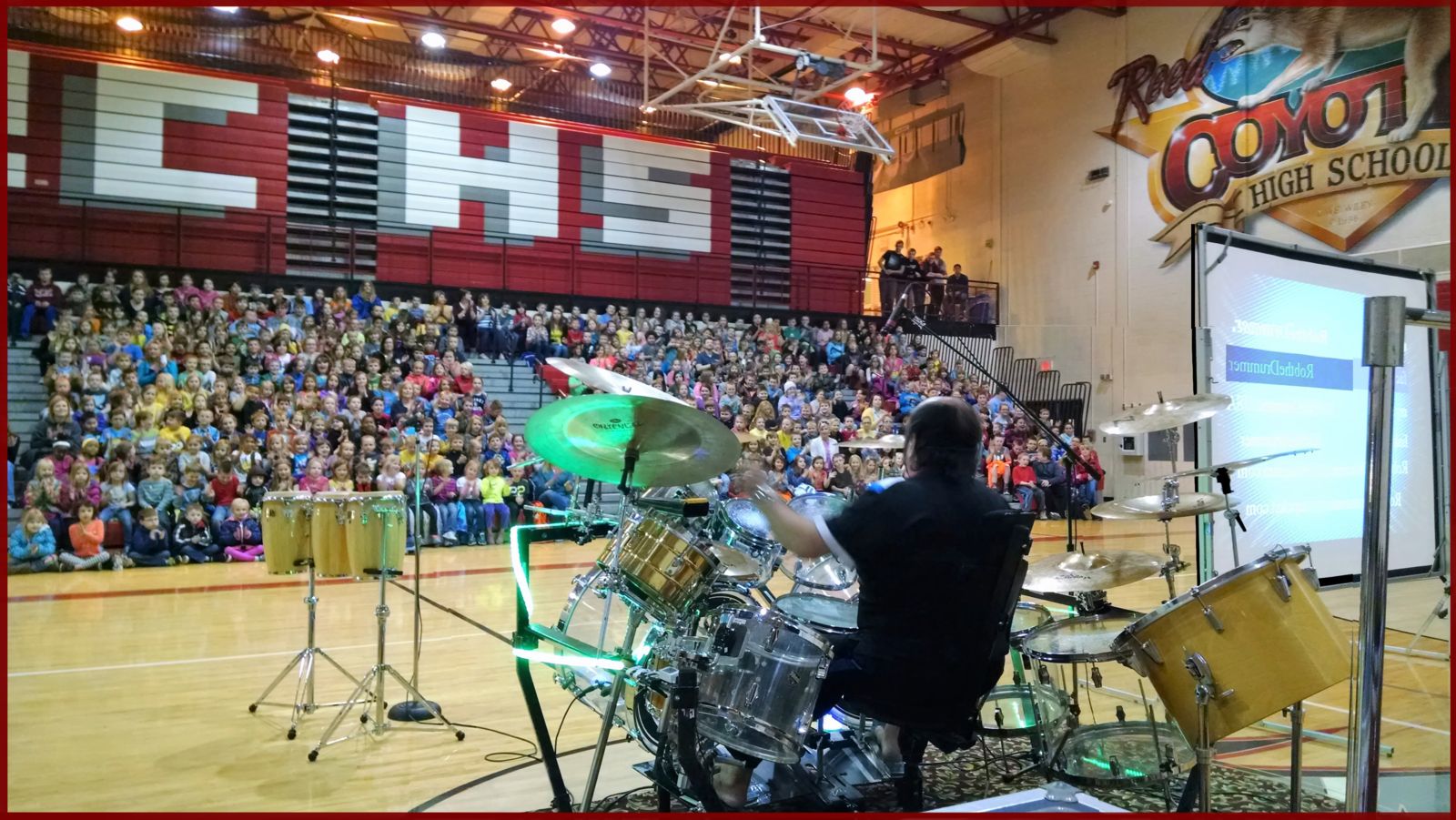 Inspire – Ignite – and Excite the Students...with Drumming and Animation!
That was the mission: to bring positive life choices, goal orientation, concepts of practice, and develop higher self-esteem for students. It was a youth pro-health, promotion vision in the making! The first ROB THE DRUMMER Michigan Tour was then set to begin with a concert tour of 10 Schools in 2001... And the Beat Went On ... from the 2001 10-Show Michigan Tour ... to the 70-Show Concert Tour 2016!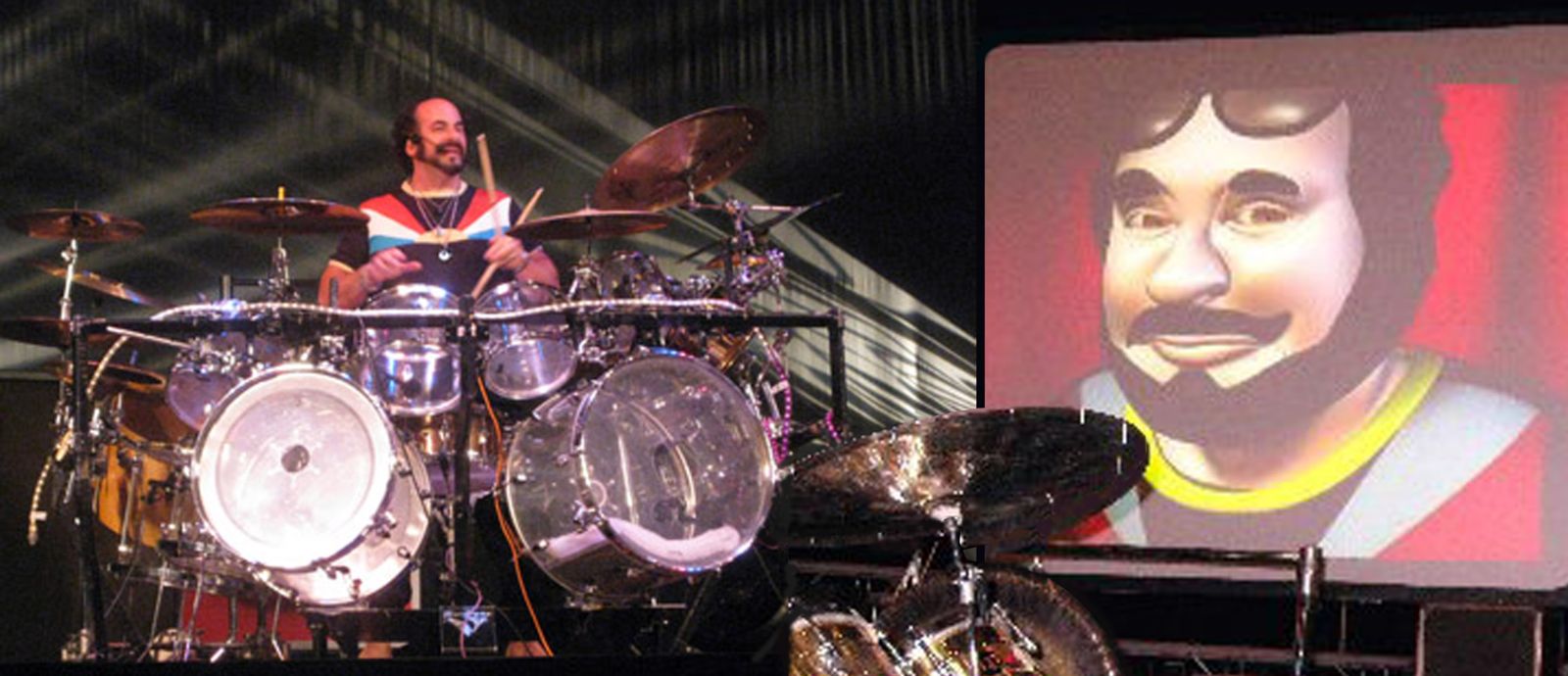 A FAN... "When I first walked into the assembly I thought it was just going to be another one of those boring speakers telling us about drugs and things we had already learned about like 100 times before, but the way you taught it was different...you inspired me to try my best and fulfill my dreams. I only wish that my step dad would have been there to see you. I thought your performance was incredible and I hope to stay in touch with you, you're a great guy for teaching us about the meaningful things in life and telling us to work hard and get better at our dreams to accomplish them."
Your #1 Fan "I will NEVER EVER forget you because you gave me my faith back. When ever I'm down I'll always think of you!!!! I don't know how you made me believe in myself. You are the nice's person I have ever meant. All I needed was for someone to have a little faith in me too. It gets a little hard when you only have one person who believes in you!!!! " Rayven
After popular demand, accolades, e-mails, and testimonials from kids and administrators across the state of Michigan, my ROB THE DRUMMER's Pro-Arts, Pro-Sports, ANTI-DRUG, ANTI-BULLYING, Self-Esteem concert venue returned year after year becoming the "Be The BEST You Can Be" Concert Tour. The Esperance Family Foundation provided FREE of charge to elementary, middle, high school and college level kids and to Under-21 Maximum-Security prisons and juvenile detention centers across the state. As the word spread as to the quality and content of our work, large numbers of schools contacted those in charge and reached Rob's website asking for more performances. This was especially true of a number of schools in the Detroit and Kalamazoo County areas.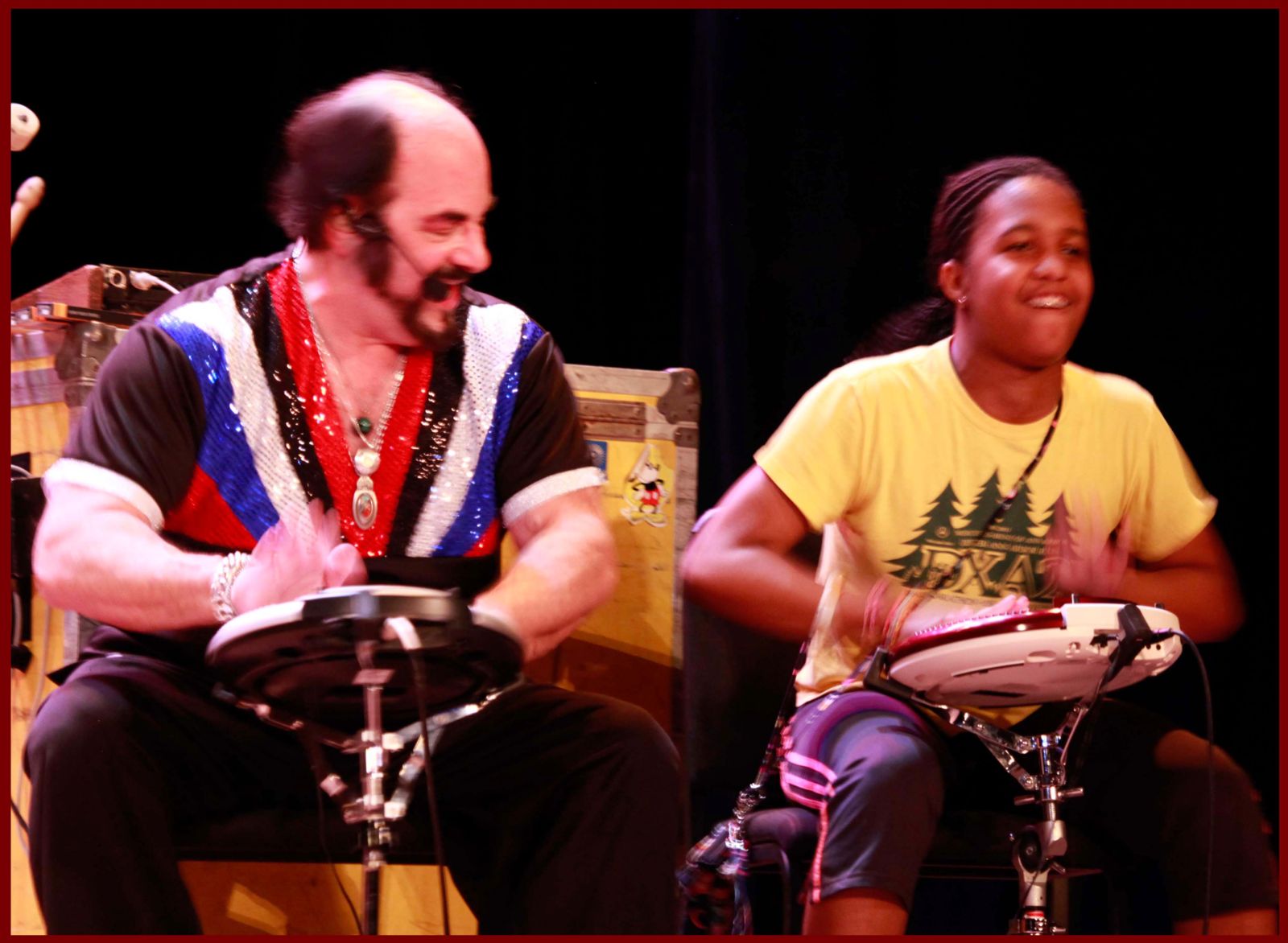 ***************************************************************
CESAR CHEVAZ ACADEMY HIGH SCHOOL - DETROIT, MI
"I would like him to go and visit more schools in Detroit, so children can learn from the experience. That's something most teenagers need these days in Detroit and all around."
"I met this man about 3 years ago. _____and I went to every show he did for the schools in Michigan for 2 years. I've never met a man like this. His speeches are so empowering and he talks about bullying! Ever since then kids haven't bullied anyone. This man is great and I look up to him for what he does for all these children around the world Amanda K. Goins
***************************************************************************************************
A Special Story ~ RTD
"My name is?_______, i'm 17 years old and a senior in high school, i love the show that u did. u saved my life today, i was suffering from depression and people picking on me friends turn out to be fake, i was going to go kill my self. But u stop that from happening with your message. i was wounder if u could come to my school - to help other the kids way u help me or if not thats fine i guess could u e-mail me back to know that u got this message. and thank you a lot for helping me."
"Through the Police and Safety Network that arranged for the booking of all the Schools there, we got the Detectives involved....who contacted him immediately (in case he would change his mind that evening!).....and then we dealt with it ourselves. When we were not able to fund quickly enough, I contacted a good friend of Dr. Roger Newton's and? David Roth, in Connecticut....who backed up another week.....and we invited ______ to join my Crew as a member for Monday's Shows.....had him work with us.....get to know us......breathe....where no one rejected him.......and we got this email back that evening.....
"i just want to say that was a time of my life. when i got home i didn't know what to tell her. just that it was undescribeable. i feel like i created more new friends that are awsome. hope to see u soon....."thanks for the gift. i didn't look at it till i got home. when i saw it i started to cry. i don't know what to say, cause saying thank you just doesnt cover it. just beeing with u and ur buds was way over wellming to me. i'm really thankfull that i ment u. i felt like i made some really great new friends and i hope to see u soon."
************************************************************************************************************
"The bottom line is the kids need you. We may never know how many kids you have touched with your message, but just one is a success. I am proud to call you my friend and I hope that you continue to impact our youth in the way that you do best, with your music.
Your Friend, Detective Dennis Padgett ~ Michigan
"Tour de' Force" for Health Promotion
In 2010 the unique paradigm was created! The collaboration of ROB THE DRUMMER with Trooper Ailene Bitnar and the Michigan State Police Officers ~ CSTs ~ became a successful, dynamic scenario ~ model ~ for communities to adopt and replicate across the country! Combining forces created a "Tour de' Force" in Health Prevention. This unique Community Tour interaction with the Michigan State Police Troopers has become a dynamic force in a grand design to build awareness for the ROB THE DRUMMER concert venue. The Officer's network paved the way for Rob to back-up the same work they are doing in the field, but through a PRIMAL connection which reinforces and gets the kids attention from a different perspective - DRUMMING and Multi-Media Animation Segments - concert approaches that capture their attention . . . BIG TIME! Kids really listened!
Trooper Ailene Bitnar - Michigan State Police
"Through his work in the State of Michigan, and my capacity as a Liaison Officer for many schools in Chippewa and Luce Counties, I have known Rob for over three years. Without any doubt or hesitation at all, I assure you that Mr. Gottfried will prove himself to be an incredible asset to the youth and families of your local school system, company, and/or state.? Rob has shown himself to be the ultimate motivational educator and edu-tainment professional.
I came to know Rob through his "ROB THE DRUMMER" tour of Michigan in 2010 sponsored by the Esperance Family Foundation of Dr.?Roger and Coco Newton of Ann Arbor.?His drumming footprints left his mark in Sault Ste. Marie, MI.? He was an inspiration to the whole town.?So much so, that on his 2011 Michigan tour, the Mayor of Sault Ste. Marie named March 3, 2011 as "ROB THE DRUMMER Day" for his city to be celebrated yearly!!
Troopers throughout the state were able to pinpoint the most troubled areas that were in need of the most careful attention. In follow-up questions filled out by every child immediately after the RTD shows, of the approximate 40,000 Kids that ROB enlightened on this tour, he consistently received reviews in the 90th-percentile for recognition of four main themes…anti-bullying, anti-drugs, the need for practice in anything you do, and 'keeping the dream alive!'; they all "Got" the messages."
Encapsulated in the enclosed passage is Sheriff Peter Wallin's testimonial statement in their news magazine ~
"Emmet County Sheriff Peter A. Wallin said Gottfried's visit was the result of a collaborative effort among his Police Department, the Petoskey Department of Public Safety and the Harbor Springs Police Department. Sheriff Wallin credits his School Resource Officer Deputy Cole Brady with spearheading the effort to bring Rob the Drummer to local schools. Sheriff Wallin also credits Officer Randy Davis with the Petoskey Department of Public Safety for involving Petoskey Elementary Schools." (Photo)Trooper Tressa Duffin
*********************************************************************
"I wish you were my daddy!" ... A Behind th Scenes excerpt! RTD
On another amazing day in this area of Michigan that is Way up in the UP, about 600 Kids in the morning Show....were Screamin'.....and I got hugged by about 30 Kids at once!! Fox News was here...and it looks like it will have a fine coverage of the Feeling...and the unique nature, of the Program. Have to tell you...if any or all are interested...and hope not to bore some...but 2 days ago, after the Show...in the bedlam as they leave, a little Girl runs up to me and says "I wish you were my Daddy!" Youch...That got me. At one of the Shows, as will happen, I answered the question at the end of a little, little person...maybe 10....and he had trouble speaking and getting the question out...but I could tell he was saying how much he loved the Drums.....and I said "Do you hope to play them someday?"...and he said "YES!"....so I brought him right up...sat him down at my set...and he clobbered everything...as tiny as he was!!! The place Erupted!.....and I gave him a set of sticks after he finished. One of the Teachers came up to me later and said that of All the kids I might have picked out, This Fellow was the Right one! There had been great trouble in his Family....and he was now living with a distant relative...and he had been having trouble adjusting....and we had now made him a Star!! Yay! It is so incredibly rewarding to be used as a "channel" for the Force...on purpose...by an act of your own Will....something that You alone conceived...and that seems to really work for so many....app. 40,000 on this trip...to give them a boost...a moment where they are rooted to the moment....and get to see someone that Loves what they do...and that does it well. A wonderful window for all of us.
* * * * * * *
A FAN..."You really made the day for a couple of my little guys who are going through a rough time right now. My gutsy little guy who wanted to twirl the pipes is just full of personality. His dad is just out of jail but most likely heading back for a long haul due to drugs so I hope your message got through to the little guy. The other bigger kid that you commented on his dancing right in front of your drums is also having a tough time. His dad died this past year and his mom is rarely there for him. Both of these kids as well as my entire class had one of the best times of their lives. Just wanted you know how sometimes one or two sentences to a child can completely make a difference. Thanks again for a fabulous time...and I'll try and cut down on the coffee!"
* * * * * * *
A FAN ..."You made such a huge impact on my son, Brandon 6yrs.old in K-1..... HE TALKED ABOUT ALL LAST NIGHT......He learned a lot of positive insight from your being there.....it's wonderful! I wanted to take a minute and personally thank you, thank you for going to the school, the kids loved you!!!
Tough Statistics! ... RTD
The statistics across Michigan are staggering I went into a school system with 30% Truancy rates in ELEMENTARY SCHOOL!...they just don't come to school. Data that is being compiled shows that the rate of Father's incarcerated in this specific school in the City of Saginaw is 80%!!! My God...how do you even Start to build any kind of life from these roots? Leads you to ask "Why did they Ever have these children"? One case-worker I spoke with after the Show said she has a case of a 17-year old.....with 4 KIDS!...naturally born. I was told by the authorities that that is technically Rape in this State....as the legal age is 16 for sexual relations....otherwise you are manipulating a juvenile. One nice thing that can be taken from today is that they all feel I am accessing these Kids like they have not seen them approached before...and we're getting through to so many. The Videos I utilize....of Me animated...and the interaction....are So useful in keeping everyone's focus. When you are dealing with populations like this...that need it So badly....you have to invite them to HAVE a Dream....and Then you can help them keep it alive! They trust No One.....because they have been beaten down....in many different ways. I may be the first male they have seen....who Loves what he Does....and does it fairly well. This is nothing less than GOD's (inspirational) Work...and I'm Honored to be the Vessel of Delivery. Perhaps, just perhaps, we may diffuse an isolated mass killer like the one at Sandy Hook....or Aurora, Colorado.....or Columbine....or Virginia Tech.....BEFORE they Snap. It's worth the Try, don't you think?!
If it hadn't been for the Officers coordinating performances in so many districts, I may not have had the opportunity to deliver the gift of self-esteem and goal-oriented thinking that made a difference for so many students! As a team, they helped me reach the Michigan Youth with great success. This awareness of strength of character gives young children and teens the understanding of why it is important to resist social pressures tempting experimentation with tobacco, alcohol and drugs; they feel and experience empathy, an integral component for societies building caring adults and credible leaders for future communities. They FEEL the fruition of Rob's lifelong dedication to the Arts through his Drums . . . directly.
This "groundswell" from the Michigan community at-large is in itself a strong affirmation for not only the NEED for this work to occur, but a strong statement of the quality to this type of preventive solution. In these troubled times of incredible stress over not "imagined," but "real life" problems . . . these days of self-medication, and steroid use . . . to be bigger, be stronger, be better . . . there is a tendency to "overdrive" teenagers and adults with artificial substances. An individual that is able to come into their educational environment and show his extreme passion, and at the same time, combine it with a quality and class of presentation, performs a great cultural service . . . a NATURAL way to change the way you feel. Rob's approach is NOT saying "NO!" to kids wanting to change the way they feel….but Saying "YES!" to changing one's perception with something that leaves them MORE in the process ~ and not less!"
"Do something to change the way you feel through the ARTS or SPORTS as a window to Adventure and escape from the troubles of daily life INSTEAD of something artificial."
Get to "the same place"...Naturally!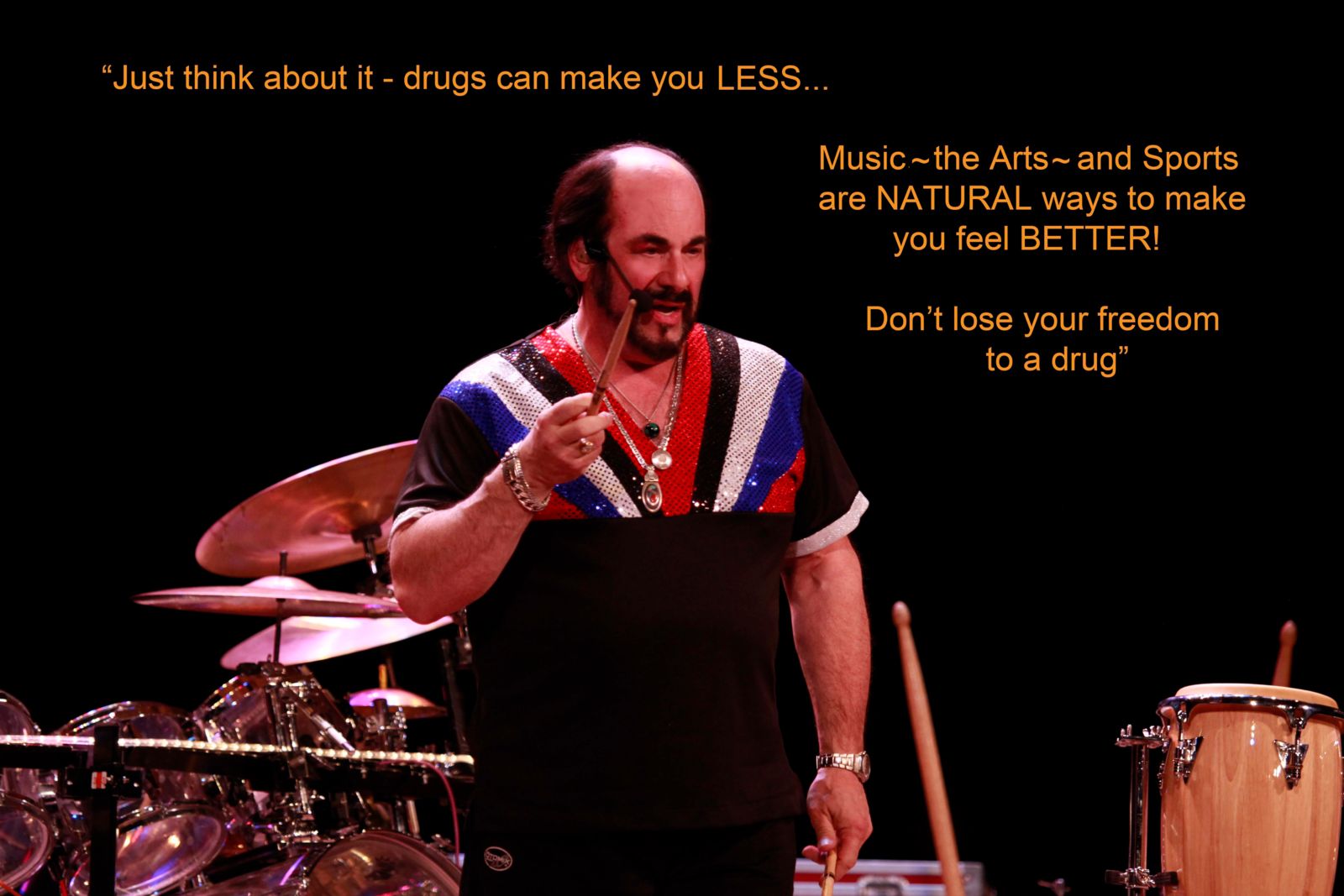 Bringing in an outsider... RTD
Bringing someone in from the outside...who sees the World in a completely different way...is extremely helpful and important...a bit of Light at the end of a tunnel they may not have known existed...as they've never seen it. They may not remember everything I said today...but they Will remember the images...the feelings...the sounds....my humor and sense of wonder, perhaps. It will be filed Deeply in their beings...such is a musical approach...with basic primal rhythm at it's core. I'm not sure I could live in this environment for very long...without either becoming completely desensitized and numb.....or such an eternal optimist that it would suspend the golden rule of existence: "You are what you eat.. i.e. what you surround yourself with, you become". No matter what, it's a constant struggle....in physical areas that look like they dropped a Bomb on the place. So many closed up buildings...easily leading to the emotions of depression and animal-like anger....and much of it coming from those so young...who never asked for an environment like this....at war with themselves....as they try to figure it all out.
On April 3, 2014, Michigan Governor Rick Snyder honored Robert Gottfried with a Proclamation of Testimony for the ROB THE DRUMMER Educational Program, celebrating years of community service and dedication to Michigan youth and their families.
SPECIAL TRIBUTE PROCLAMATION
"...in recognition of Rob Gottfried's dedication to the youth and communities of Michigan. Rob has helped to foster a better learning environment for countless children in Michigan and throughout the United States. Not only has Rob used his talents to serve, inspire, and motivate individuals throughout his career, but he has also given back through numerous philanthropic efforts. Without a doubt, Rob has positively impacted the lives of those he has reached through his artistry, and we commend and thank him for his contributions to the people and communities of our state and the country."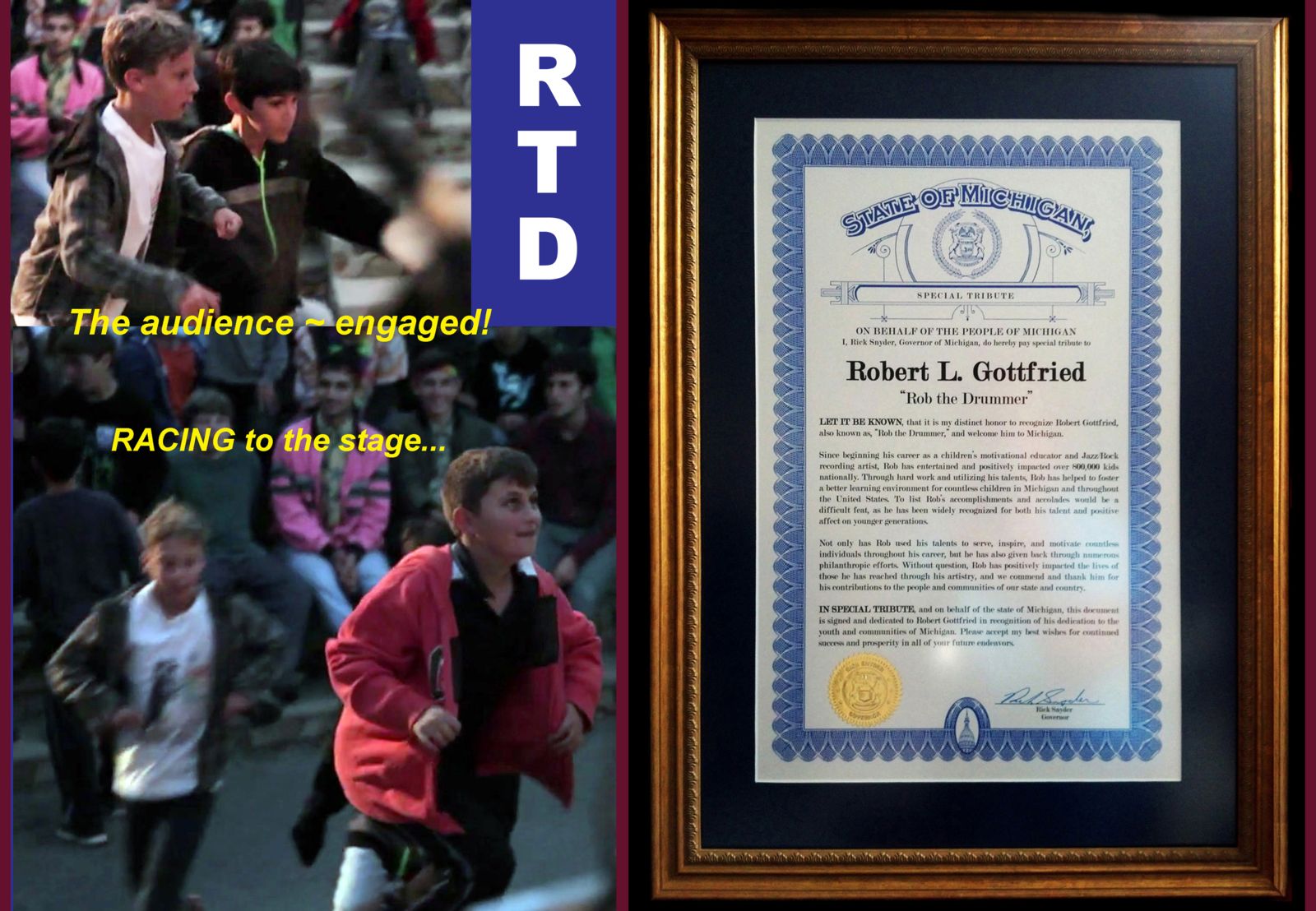 DENNIS PADGETT ~ DETECTIVE, MI
"The bottom line is the kids need you. We may never know how many kids you have touched with your message, but just one is a success. I am proud to call you my friend and I hope that you continue to impact our youth in the way that you do best, with your music."
Director, Dr. Lee H Craft Ann Arbor, MI
"NO ONE has gotten this kind of reaction out of this population! Rob is the only performer with a message that gets through....and elicits a very real response to this population."
"( A 2:30 AM Phone call)...."Is this ROB THE DRUMMER?"....Yes......."Well, I'm out!" You're OUT?....from what?....where?....."From Prison!" You came to my Prison last March....you came in and spoke with us...wanted to say that I pulled it all together and without your coming that day, I wouldn't be out now!!" Michigan Fan!
Michigan Governor Jennifer M. Granholm 2008
"An introductory video collage would testify to his magic with all age groups from early elementary through high school. Rob grabs them from the beginning and releases them only when he is certain the message has been received."
**********************************************************************************
My connection in Michigan!
Never before have I received so much appreciation - I am an entertainer ~ rallying for Teenage Health Promotion and Drug Prevention. My strength is my ability to CONNECT - I get people pumped up - right in the schools! Whether your 8 or 80, drumming will get your attention immediately. . . but it is then the charge of the Motivator to build greatness off the connection that has been made. The Esperance Family Foundation has become Legendary in Michigan. Their sponsorship of my ROB THE DRUMMER ~ Be the BEST You Can BE Concerts have sent a powerful and positive wake-up call to every corner of the State.
The Newtons are to be Honored and Congratulated.
*************************************************************************
Sixteen years of celebrated "Wrap-Up Dinners" hosted by their illustrious leaders, Dr. Roger and Coco Newton resonated which cheers, testimonials, out-takes and laughter at the end of every Tour in hallowed restaurants in Ann Arbor. It's an event where all the dedicated Michigan State Troopers are gathered together; troopers who have supported, helped and motivated students to make Rob's concerts a major success! It's a gathering of many other fans and supporters, too, who have become an integral part of the "ROB THE DRUMMER" Tour experience ~ all coming together to reminise, swap stories and share special moments from this journey as an offset to the uncertain chaos that is going on out there in the real world. Each tour year has become more decisive in the belief that the help...of any small or large kind....is spiritually necessary and may prevent even larger negatives down the line...for SO many systems are broken. What we've seen on the issues of catastrophic divorce rates, bullying to the max, abandonment, kids having kids, suicide, heroin and meth addiction, etc. is offset by the "Wins".....those that we touched deeply in their perspectives and attitudes....so that they can ultimately help themselves...for that may be their only salvation...as the resources to help are few and far between.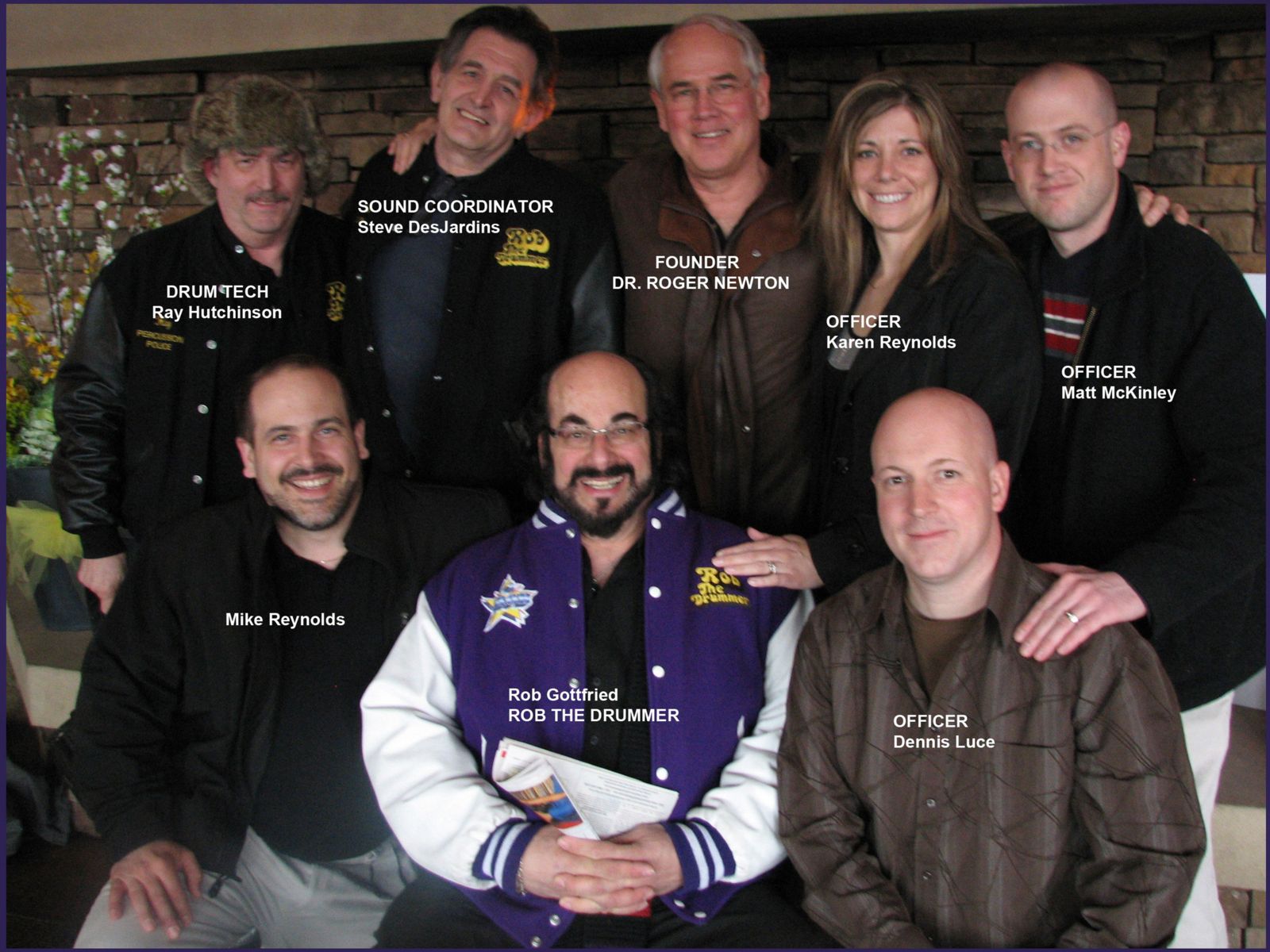 ***********************************************************************************************
". . . you really rocked the place! The message, cleverly packaged in terms related to the concept of individual freedom, seemed to be very effective in reaching the young people."
ANN ARBOR HURON HIGH SCHOOL Ann Arbor, MI Norman E. Fischer, Counselor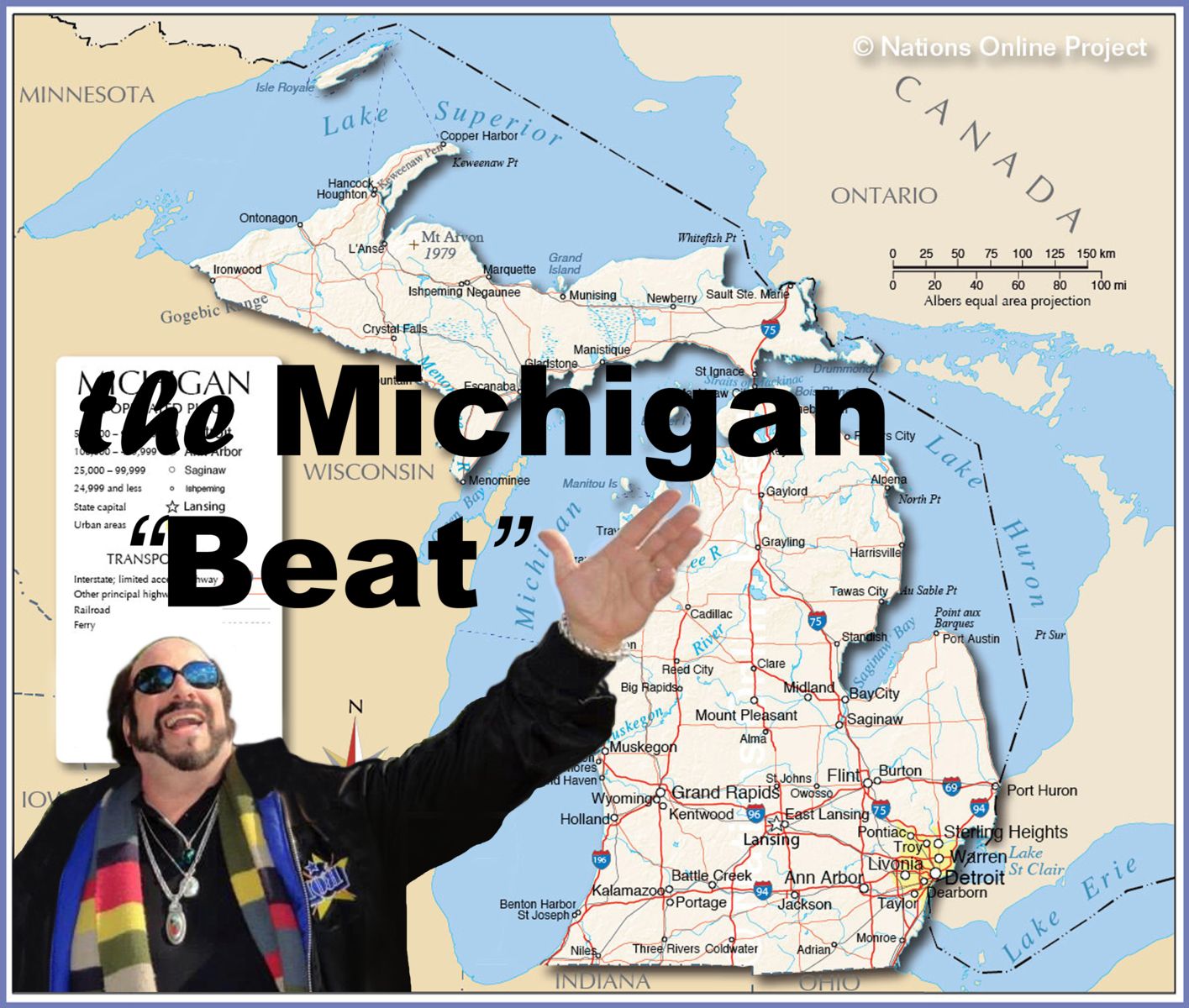 As a final note in my "Day-to-Day" concert life of ROB THE DRUMMER ...
Here's a great ending ~ a wonderful day....a great set of Shows....another opportunity for breakthroughs. So....we're doing the question/answer program at the end of the first Show....and I recognize this child who's about a 5th grader....and I ask him to stand when he asks the question...so we can all hear....and he's trying Really hard to get something out of his mouth...physically strained at trying to come up with the thoughts and words...having an incredibly hard time. I could have blown him off and moved on...because there were lots of other Kids that wanted to ask questions....but I didn't....I waited...we All waited...and I joked with him over my wireless headset mic "Don't worry...there's no social pressure...no one's listening...!!" I followed immediately with "It's OK...take your time...think about what you wanted to say....was it about my equipment?...about Me?" He finally says...summoning the courage and focus "how do you make all those drums play together like that?". I say that I started early...like he would...and practiced...and......then I said...going with my feelings of the moment as I always do.. "Do you really like the Drums?"...and see he smiles Big-Time...and He says "YES!". So I decide to bring him up on the Drum set in front of everyone....something I don't usually do at this point...but go with it. I sit him down...in my "cockpit" of Drums....and he goes ballistic!! The whole audience erupts...because they have sensed how hard it was for him to get out what he wanted...and were now viewing his release of that tension. Smiles All around...and Everyone felt it! I gave him a pair of sticks. After the Show, his Teacher comes up to me...and says "you have No idea what you just did for this child! He's ADHD to the max...and you just made his day....and may have shifted his life. This was So wonderful for him!". She gave me a big hug...and went on her way to spend some time with him in his class. Again..the Right thing to do...and so fortunate for me to be there to do it.
Thank you, Michigan!